Fall 2023
The story of Manhattan's real estate market in 2023 has been the story of rising interest rates. Rates on 30-year fixed, conforming loans having risen 130% / 34 basis points in 22 months has influenced our market more than all other factors combined. However, it's effect has varied greatly in different market sectors, and has affected certain metrics vastly more than others.
For example, across Manhattan, sales activity was down 22% year-over-year in Q3. However, pricing, by measure of average closing price, average PPSF, and median resale sales price, was essentially flat during that same time span. This is attributable to absorption rate staying relatively stable all year, as sellers have been hesitant to list their homes in a down market, when they've likely refinanced at a rate much lower than they'll have access to again in their lifetimes. We're also seeing few forced sales, as the economy as a whole has stayed strong throughout the year, by any metric. Low supply matching low activity keeps pricing stable, especially in a resilient economy. Additionally, while a 22% decrease in activity is drastic, we see evidence that this trend is bottoming out: sales activity was 39% lower year-over-year in Q2, and 37% lower in Q1. Overall number of sales rose in Q3 for the third straight quarter.
However, the market hasn't remained resilient across all sectors. Essentially, the more likely the average buyer of a certain home is to get a mortgage, the more the value of that home has fallen. For example, an $8m condo buyer isn't likely to borrow, and if they do, they're more likely to borrow against their own equities rather than get a mortgage. Therefore the $8m condo market has stayed resilient through rising interest rates. However, the buyer of a $750k one bed is far more likely to get a mortgage, and therefore that market has been severely compromised by rising rates. There is an uptown / downtown element to this as well. Even at similar price points, downtown buyers are less likely to get mortgages, and therefore the downtown market has been more resilient. The market for UES / UWS coops under $3m is showing the most value for buyers right now.
Another factor that has affected pricing is physical condition. There is much more of a delta between the value of a newly renovated home and the value of a home requiring a gut renovation now than pre-COVID. While renovation costs have lowered from 2021 peaks, they're still higher than pre-COVID, and buyers just aren't willing to undertake the project. Even homes that are move-in ready despite having dated renovations are requiring vastly larger discounts than several years ago. Sellers who renovated more than ten years ago are having difficulty realizing the value of the renovation when selling, even if they've kept their home in good condition.
These patterns remain essentially the same for Brooklyn: pricing is flat relative to Q3 2022, sales activity is down drastically year-over-year, although up from Q1 and Q2. One notable difference:  while Manhattan's absorption rate has held between six and ten months over the past year, supply numbers that indicate a market in equilibrium, Brooklyn has held at around three month's supply, a severe inventory shortage.
Manhattan Sales Market
Click the icon below to view the Q3 2023 Elliman Report for Manhattan sales:
– Median sales price decreased for the fourth consecutive quarter, although the rate of that slippage has also decreased for four quarters.
– The market share of bidding wars declined YOY for coops, condos, and luxury inventory.
– Signaling a preference for move-in ready homes, the market share of new development reached its highest level in over a year.
Brooklyn Market Sales
Click the icon below to view the Q1 2023 Elliman Report for Brooklyn sales:
– Median sales price holds stead for a year straight, with Q3's figure being the third-highest on record
– Sales activity declined annually for the fifth straight quarter
– Although flat YOY median sales price is now 20% above pre-pandemic levels
New York City Rental Market
Click the icon below to view the report for September 2023 Manhattan, Brooklyn, & Queens Rentals:
– Median rent amount slips from Q2's record level, suggesting the market has peaked
– New lease signings slip to their lowest level since May.
– Vacancy rate exceeds 3% for the first time since COVID.
Presenting a new way to search for Real Estate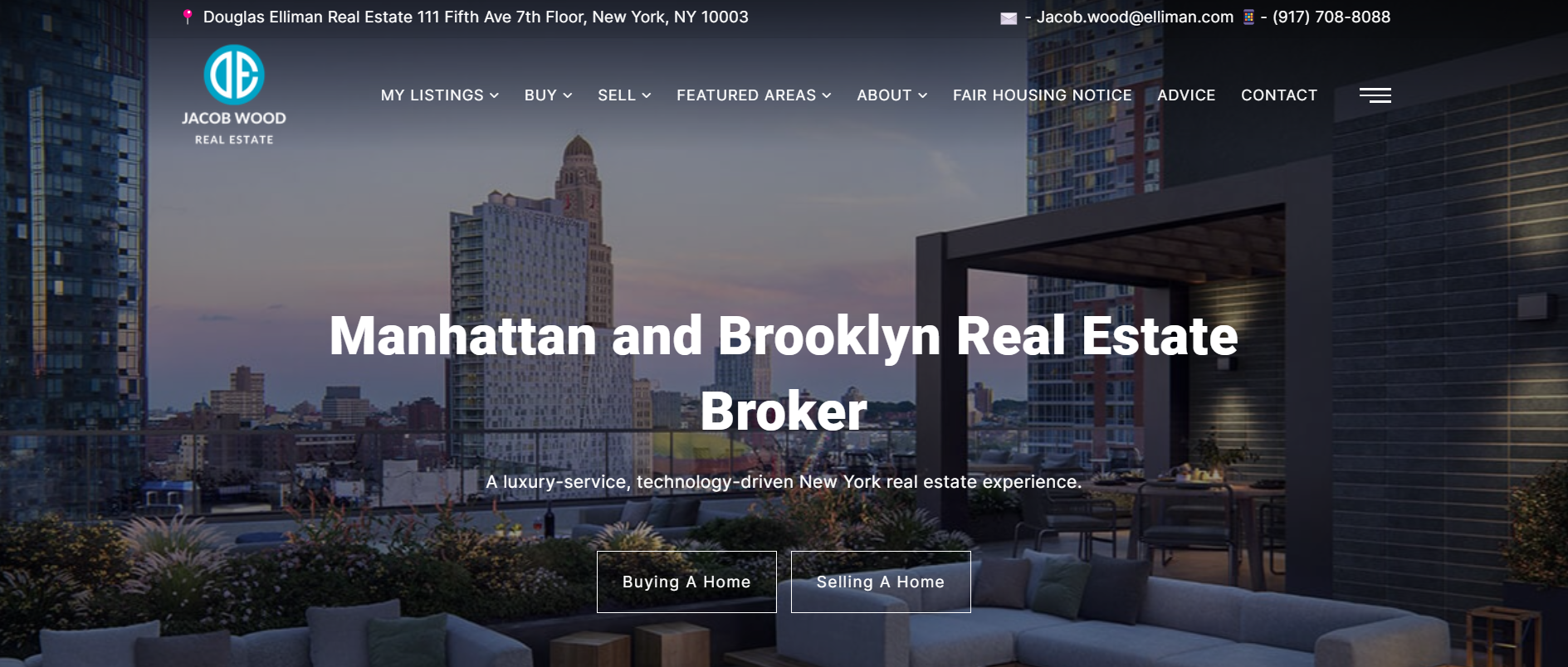 jacobwoodre.com pulls listings using the same IDX feed as all major brokerages and real estate sites. Since StreetEasy forces agents to manually upload their listings in order to charge them per-listing, many agents don't put all of their listings on StreetEasy, or keep them up-to-date. The home search function on my website offers all of those listings.
My newest listing: 885 West End Ave 2B
This beautiful space offers high ceilings, excellent light, and the best price for a 4 bed on the UWS.
Quickly in-Contract: 49 Morton St 5E
This West Village one bed accepted one of multiple cash offers above ask after three days on market.
My Best Value: 285 Riverside 11G
This Beautifully redesigned 3 bed / 3 bath on Riverside Dr asks only $2.3m for 1968 square feet.
Another Great Buy!
This buyer recently purchased a one bed on the parlor level of a townhouse on perhaps the best block of Greenwich Village: Washington Square South.
COMING SOON: 3 new homes for Fall
148 West 15th St 4: Chelsea 1 bd/1 ba
626 West 136th St 4: Hamilton Hts 3 bd/1 ba
615 West 113th St 75: Morningside Hts 1 bd/1 ba